Top 5 high-end smartphones worth buying for the 2012 holiday season
Smartphone war starts ahead of holiday season. Starts with
iPhone 5
, then Windows phone 8 follow up, such as
Nokia Lumia 920, Windows Phone 8X by HTC, Samsung ATIV S
. The
Nexus 4
, announced yesterday and rumored for about 50 years before, goes on sale directly from Google starting November 13. The Smartphone war is heating up as smartphones play a bigger role this holiday season.
Thinking about buying a new smartphone for yourself or as a gift this holiday season? People are spending a whole lot of time with their smartphones these days, so here's a list of the top smartphone choices to make sure it's time well spent.
1. Nokia Lumia 920
The Nokia Lumia 920 is the new flagship smartphone of the Windows Phone 8, which features a 4.5 inch PureMotion HD+ display, LTE,
8.7MP PureView camera
, 1.2MP front camera, 1.5GHz dual-core processor,
wireless charging
, 2000 mAh battery,1GB of RAM, and 32GB of internal memory , Nokia Maps, Nokia Drive, Nokia City Lens. Nokia claims its new handsets are "the world's most innovative smartphones". I know many of you have already added it to your list this holiday season, so do I. Now Nokia Lumia 920 is available in Canada (at Rogers). More units will be shipped in the near future.
2. Windows Phone 8X by HTC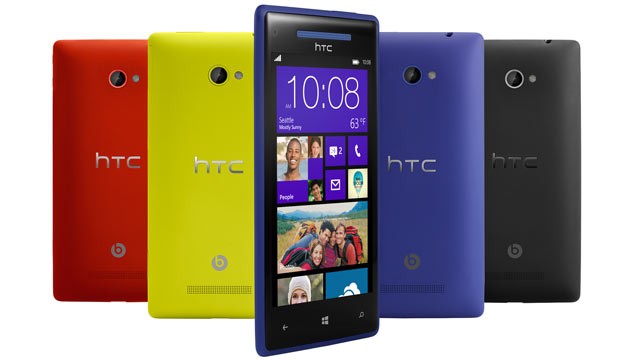 The
Windows Phone 8X
by HTC is a premium Windows Phone 8 device that packs a punch with a beautiful 4.3-inch HD-resolution super LCD 2 screen, a powerful 1.5GHz dual-core processor, impressive 8MP camera with HTC's custom Image Chip technology and a
very-wide-angle 2.1MP front-facing
shooter on the other side. Customers will enjoy the feel of the pure unibody design in California Blue, access to Windows Phone's Live Tiles, immersive studio-quality sound with
Beats Audio
™ and incredible camera capabilities of the Windows Phone 8X by HTC.
3. LG Nexus 4 runs on Android 4.2
The Nexus 4 has a 4.7-inch, 1,280 x 768 pixel resolution display, a quad-core Snapdragon S4 Pro processor from Qualcomm,
2 gigabytes of RAM
, an 8-megapixel rear camera, a 1.3-megapixel front camera and either 8 or 16 gigabytes of storage. It also has NFC, a micro USB port and micro HDMI output. For bells and whistles, Google is touting built-in wireless charging (though you'll need to supply your own compatible charging mat) and a Photo Sphere feature that can shoot 360-degree panorama photos but it doesn't support 4G LTE. LG Nexus 4 runs on Android 4.2, which comes with a lot of new features, like updated Google Now, and multiple user accounts. It also adds a Swype-like trace keyboard, built right into stock Android.
See also:
Android 4.2's four best new features
4. Samsung Galaxy Note 2
If you are interested in larger screen, then
galaxy note 2
may be your best choice. The Galaxy Note II will be featuring HSPA+ and 4G LTE connectivity, a 1.6GHz quad-core processor, a
5.5-inch
HD Super AMOLED display with a resolution of 1280 x 720, Android 4.1 Jelly Bean, an 8 megapixel auto focus rear-facing camera with a 1.9 megapixel front-facing camera,
S Pen stylus
, Bluetooth 4.0, a 3100mAh battery, 2GB of RAM and microSD card support up to 64GBs. The Galaxy Note II will also be coming in 16GB, 32GB and 64GB models along with a white or black color to choose from.
5. iPhone 5
"The iPhone has always been an innovator since its 2007 release and its true potential really came out with the 4 and 4S models, but the iPhone 5 is the king of them all," said junior Caleb Hughes.
The iPhone has a 4-inch LED-backlit IPS TFT display featuring 326ppi pixel density with 640 x 1136 pixels and also has Gorilla Glass, features a A6 chipset with 1.2GHz dual-core CPU and of course the PowerVR SGX543MP2 GPU, 1GB RAM, has an 8-megapixel on the rear and a 1.2MP on the front, as well as 1080P HD video, geo-tagging, HDR, panorama, LED flash, autofocus and face detection. The iPhone 5 comes in 16, 32 and 64GB versions, which is running
iOS 6
. Price of the iPhone 5 is relative high than other smartphones.
With shoppers getting ready to kick off the holiday season the day after Thanksgiving — or sooner — retailers are ready for consumers to pull out their smartphones or tablets, NRF's Shay said. So Which one is your next mobile device as the holiday gift ?